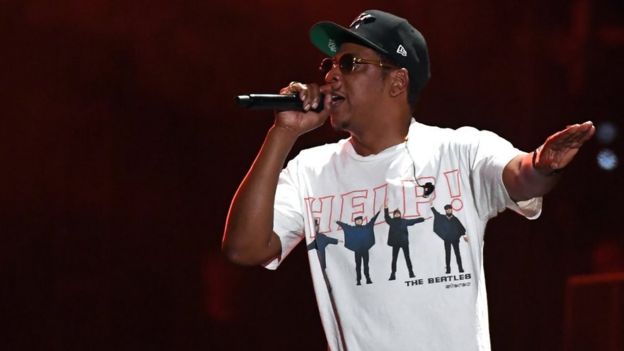 GETTY IMAGES
Thanks to the music reporter for the BBC, Mark Savage, I have been let in on "Six Stories" that "I need to know" about the upcoming awards at Madison Square Garden, "including Carrie Fisher's nomination" (http://www.bbc.com/news/entertainment-arts-42149729).
When you think one thing about an event, you're both pleasantly and sometimes unpleasantly surprised at how others viewed it.  Case in point is NY Times columnist Frank Bruni's take today on the upcoming Super Bowl LII.  He called it "The Hell of This Year's Super Bowl," a "metaphor for Trump's America" because the Patriots are playing and "the Eagles aren't cuddly underdogs.  They have fans so obnoxious that after Sunday's rout, some of them threw beer cans at a Vikings team bus as it pulled away from the stadium.  Sore winning: I wonder which of our amazing leaders taught them that."
Geez, Frank, tell us what you really think and, can I ask a question, "Is everything in the world about Trump?"  I thought it told a story about a Comeback Team and a Comeback City who rooted for each other in another "Ya Gotta Believe" moment echoing Tug McGraw's famous slogan about the 1980 Phillies on their way to winning their first World Series.
Anyway, about the Grammys, about which I make no comparisons to Donald Trump and which I'm wondering how others will view.
For starters, Jay Z and Kendrick Lamar are the main contenders for the 60th annual Grammy Awards, leading a crop of nominations that is heavy on hip-hop and R&B but has left mainstream pop stars like Ed Sheeran and Lady Gaga out of the running for the major prizes.
That to me is downer #1.  I love Lady Gaga, especially the fully formed and polished pop diva after touring with Tony Bennett, though Ed Sheeran is a meh to me.  Just not a fan.
Carrie Fisher gets a nomination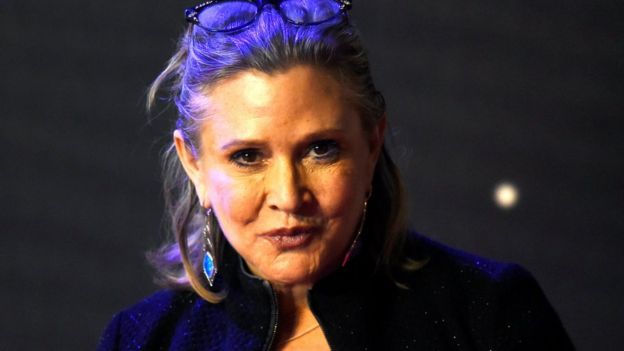 Eleven months after her death, Carrie Fisher gets a posthumous Grammy nomination in the spoken word category for a wry, self-aware reading of her autobiography, "The Princess Diarist."
I guess good for her or good for her daughter, Billie Lourd, who narrates her mother's diary entries from the 1970s, which mostly concern her relationship with Harrison Ford.
OK, but Harrison Ford to me is about as interesting as a former ball player riding a bus telling you about when he played in the majors–"hey, wow, that's great, Harrison, loved you as Han Solo and Indiana Jones, but I gotta run, this is my stop."  I know, maybe not fair.
More appropriately, posthumous nominations went to Leonard Cohen, Linkin Park's Chester Bennington and Chris Cornell.
Hip-hop and R&B rule the roost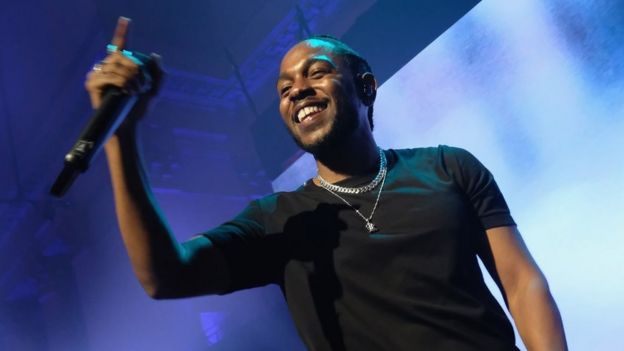 After the bruhaha that only two black artists have won the Grammys main prize in the last 20 years (do you see a theme here with Big Entertainment?  I do), I guess it's of little surprise that Jay Z and Kendrick Lamar's multiple nominations were expected; but the recognition for Bruno Mars's "24K Magic" and Childish Gambino's brilliant, psychedelic P-Funk album "Awaken, My Love" were both surprises, according to the BBC's Mark Savage.
I like Bruno Mars.  His talent, both vocal and dance, remind me of Michael Jackson who was the King of Pop.  Good for Bruno.  I don't follow P-Funk, though.
Evidently, Childish Gamino's nomination was responsible for pushing aside Ed Sheeran's ÷ (Divide); which many Grammy observers assumed was a shoo-in for album of the year.  Sheeran came up empty this year.
Didn't know that.  Like I said, Ed Sheeran doesn't do it for me.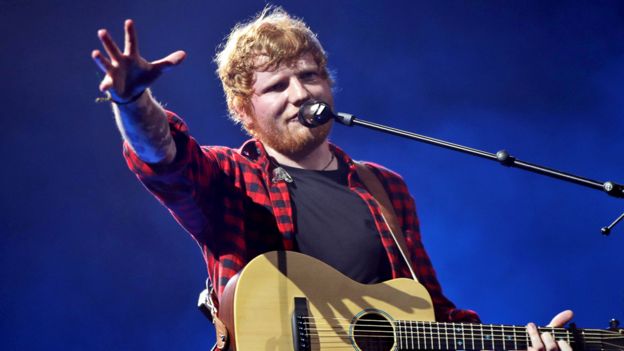 But the story goes deeper than the main awards categories – the top nine most-nominated people at the 2018 Grammys are non-white performers. That's good and probably well-deserved.
And to put an even finer point on that revelation, Neil Portnow, chief executive of the National Academy of Recording Arts & Sciences, which runs the Grammys, called the mix of nominees "a really terrific reflection of the voting membership of the academy."
Hey, talk about groundbreaking developments, the Grammys are right there.  Next they'll be celebrating female artists like Kesha.  Oh, sorry, I got ahead of myself.
Kesha seals her comeback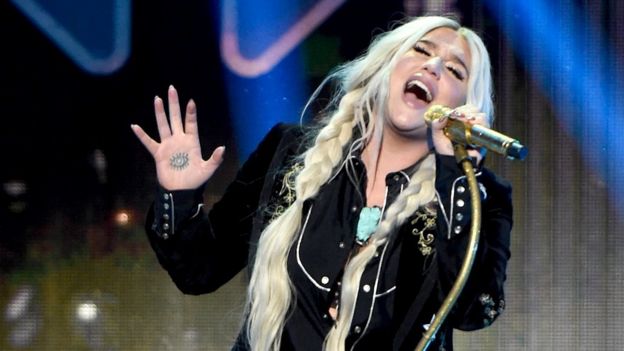 According to the BBC music reporter Savage, "Kesha's first incarnation as a heavily autotuned wildchild pop diva was roundly ignored by Grammy voters. But following accusations of abuse against her producer, Dr Luke, the singer produced a potent and cathartic album, Rainbow, channelling all of her personal drama into the best music of her career."
Lucky for Kesha that #MeToo"and #Time'sUp" happened or the Grammys might have ignored Kesha again.  I love Kesha.  The "girl growl, of-the-moment, I-don't-care" San Fernando Valley Girl sound does it for me. Does not "TiK ToK" say that in spades?  And she can sing gospel like no other pop star like she does in "Praying" that makes your spine tingle in a psychedelic video truly gripping.  She has Pink's powerful voice and passion and speaking of Pink, I can't wait to hear her version of the Star Spangled Banner at the Super Bowl.  Philly girl singing at the Eagles' Super Bowl.  But this Sunday is Kesha's moment and one clearly deserved.
Non appetit for Katy Perry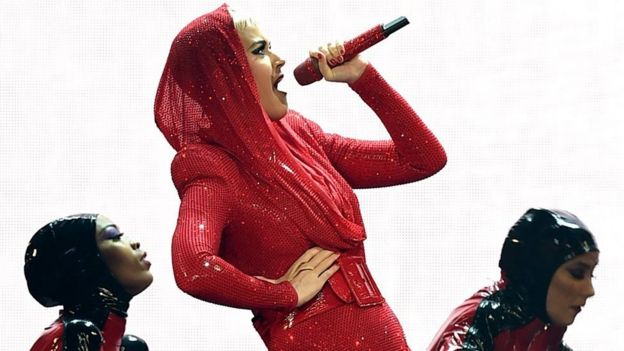 Katy Perry has yet to win a Grammy.  That doesn't matter to me and, as a matter of fact, the way she sang "Yesterday" during the Beatles Tribute in 2014 made me miss the Fab Four more than I would have thought.  Regardless, Sir Paul and Ringo were hugely gracious during the performance while the audience tried gamely when the camera focused on them to pretend they were "in the moment."
Doesn't matter, the Beatles were indeed "yesterday" and "I Kissed a Girl," "Firework," "Teenage Dream," "Last Friday Night," and "Roar," among many others, has cemented Katy's reputation in the minds of teenage girls and Boomer men thinking back to the those days and dreams of when they were teens.  Katy Perry, you see, is a Boomer fantasy, if I can be so bold to speak for my generation.  She's also a modern day fantasy.  Just ask John Mayer before she dropped him for someone else.
But I digress.
Is rock redundant? Has country come a cropper?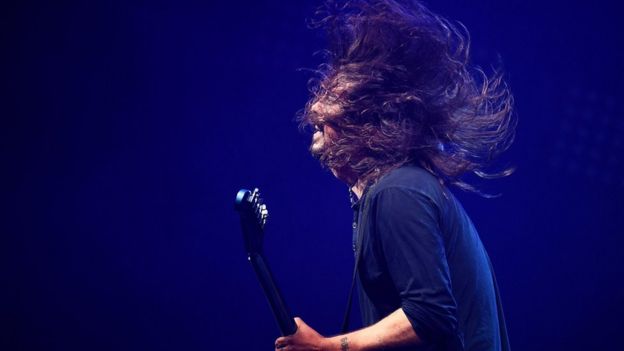 Reuters
Also lamented by reporter Savage is that "rock and country – in fact, all songs played on a guitar – are notable by their absence this year."
That, to me, is a huge mistake.
"Foo Fighters and Queens of the Stone Age failed to break out of their genre categories despite delivering strong albums; while crossover act Imagine Dragons, whose singles Thunder and Believer have been a major presence on the US charts, are consigned to the pop ghetto.
And while the Grammys traditionally recognise one country artist in the album of the year category, even Sam Hunt – whose album Body Like a Back Road, which spent 25 weeks at number one – failed to make the cut."
Rock and country are part of our musical heritage, so is the guitar.  They're part of America's musical DNA.  The guitar was the symbol of Woodstock, for Christsakes.  Grammys ignore them at their peril.
Taylor Swift will have to wait for next year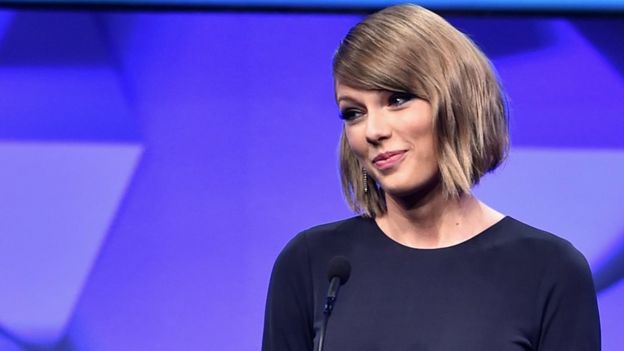 GETTY IMAGES
Taylor Swift missed out because her album "Reputation," the biggest-selling album of the year in the US, was released after the Grammys' cut-off point.
Taylor Swift has a great voice, but I often get her confused with other artists like Rachel Platten, particularly her hit, "This is My Fight Song." I googled other female vocalists who "sound like Taylor Swift," but  too many names came up to list.  Oh, well.  She's got the sound, the voice, and the personality to top the charts.  Give her a Grammy just for that.
So, we'll see what happens Sunday but in the meantime, that's my jaundiced and biased take on the Grammys 2018.
I'll close on this.  In search of life on other planets in other galaxies, NASA sent up several spacecrafts.  Such an attempt was made with the 1970s spacecraft Pioneer 10 and 11 and Voyager 1 and 2.  Pioneer wore a golden-etched plaque that showed, in scientific pictograms, the layout of our solar system, our location in the Milky Way, and the structure of the hydrogen atom.  Voyager went further and also included a gold record containing diverse sounds from mother Earth, including the human heartbeat, whale "songs," and musical selections from around the world, including the works of Beethoven and Chuck Berry, as recounted by Neil De Grasse Tyson in his bestseller, Astrophysics for People in a Hurry.  Of course nobody knows if aliens can even hear much less have an AR turntable.  Anyway, "Saturday Night Live," shortly after the Voyager launch, did a parody showing a written reply from the aliens who recovered the spacecraft.  The note simply said, "Send more Chuck Berry."
I can see why.  Note to Grammys: Nominate more Chuck Berrys.