There is a famous formula in chemical industry crisis communications PR.  It's Risk = Hazard + Outrage.  That was 20 years ago coined by crisis communications expert Peter Sandman.  Every chemical industry PR person knows it by heart.  Now add social media to outrage and you have a formulaic description of three events that occurred or were divulged this past week.
Bill O'Reilly & Fox News Renew Contract Despite NY Times Story – Report
It started with a New York Times expose of Fox News celebrity anchor Bill O'Reilly on April 1st (no April Fool's joke).  The Times reporting uncovered that O'Reilly had secretly paid out approximately $13 million to settle allegations by women he had either worked with on Fox News or who had filed suit against the cable news star for sexual harassment and discrimination at the network.  This comes in the wake of last summer's sensational dismissal of Fox News CEO Roger Ailes for the same allegations.
The O'Reilly disclosure was followed on Sunday, April 9th by the video of a United Airlines passenger extricated from his seat and pulled down the aisle, glasses askew, belly exposed, and blood on his face, because he failed to adhere to the airline's involuntary seat removal policy.  The passenger, a surgeon, Dr. David Dao, suffered a concussion, broken nose and damaged sinuses and lost two front teeth when he was dragged off the flight.
Meanwhile, at the White House Press Room on Tuesday, April 11th, presidential press secretary Sean Spicer favorably compared Hitler to Bashar al Assad's dropping of a deadly nerve gas, sarin, on innocent civilians in Syria along with calling Nazi death camps "Holocaust centers" as part of the inapt and ineptly drawn comparison.  From a crisis standpoint, it could be called a perfect storm.
As one who consults about and teaches crisis communications, what jumped out at me was the utter and unacceptable failure of those directly and ultimately responsible for the actions associated with these misdeeds or the failure to apologize in a way that makes clear the social, moral, and ethical lapses that they contained.  The second takeaway was the organizational failure coupled with personal silence, as in the case of Mr. O'Reilly, or incompetent responses, as in the case of the United Airlines CEO and the president's press secretary until the tsunami of social media outrage dragged them kicking and screaming into an apology (just like the Chicago Airport Security officers did to passenger Dr. David Dao on the plane bound for Louisville, KY).
Why are they both organizational and personal failures?
In the Fox News case, Fox had made the statement following the Ailes dismissal that such behavior had no place at Fox News and would not be tolerated.  Clearly, Mr. O'Reilly's celebrity status and revenue producing "The O'Reilly Factor," the highest rated cable news show on TV, impacted that ethical red line and his behavior tolerated at the network allowing his contract to be renewed.  So both Twenty-First Century Fox and Mr. O'Reilly share in that blame together and separately.
In the case of the United Airlines customer extrication episode, CEO Munoz issued a statement that bore no relation or contrition for the episode as demonstrated by this tone-deaf, legalistic, and meaningless assembly of words: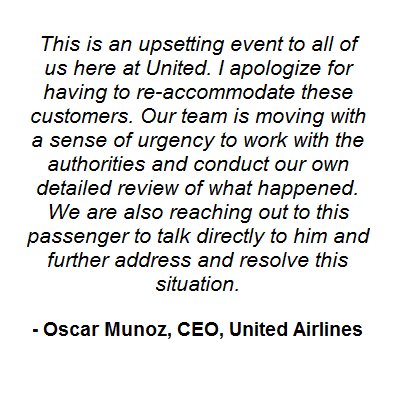 A later apology called the actions of his airline "shameful" but seemed both too little and too late.  In the case of the Chinese social media, nearly 500 million views had occurred in the 36 hours since the camera phone video of the incident went viral.  Calling it a system failure, as Mr. Munoz did on ABC News and the other major news outlets was almost as bland.  From the moment the decision was made to involuntarily remove passengers to accommodate the four UA flight crew's need to get to Louisville, UA staff made bad and imprudent decisions up to and including the decision to call in law enforcement to remove the passenger who refused to take the voucher offer (Dr. Dao said he had surgery patients waiting in Louisville and could not give up his seat).
The decision to have him forcibly removed showed an insensitivity to human relations that may go down in airline history as a worst-case example of corporate callousness.  What Mr. Munoz did not say was that the market (i.e. the flying public) values low fares more than they do brand loyalty and so he made the organizational decision that profits trumped an organizational culture that values customers first.  That is demonstrated by United Airlines' consistently ranking last in airline industry customer satisfaction surveys while Mr. Munoz pursues his turnaround policy.
Mr. Spicer's remarks show both a personal insensitivity to his obvious gaffe not to mention lack of historical understanding.  He, too, waited hours while trying to walk back his remarks while still trying to make his point about Assad.  That was water over the dam at this point.  His mistake was his Hitler comparison and incredulous "Holocaust center" head scratcher.  Like Mr. Munoz's "re-accommodation" explanation of the seat extrication, death camps are hardly "centers" not to mention the fact that such a reference may be absent from written or spoken language heretofore.  Mr. Spicer's remarks may also go down in presidential press conference history as a worst-case example of what not to do in making historical comparisons with current events.  The organizational failing has to do with the Trump Administration's own cultural and ethnic insensitivities as evidenced by the policy that prohibits immigrants from certain Muslim countries from entering the U.S. while fleeing the horrors of war in the Middle East for fear they may be terrorists.
Alan Murray, president of Fortune Magazine and Chief Content Officer for Time Magazine, which owns Fortune, said it best when he said on the CBS This Morning program, in response to what factors contributed to the UA incident going viral and the airline's slow-motion and tone-deaf response, was that "social media outrage is not taught in business schools."  That may explain the speed of the issue going viral but it does not attend to the reasons why it did.
Organizational Dynamics, by contrast, does teach social media outrage.  It also teaches the importance of ethical and moral behavior in business, as does Penn's iconic business school, the Wharton School.