Nicole Morgenthau was lucky. She thwarted a Trump backer who                           threatened to boycott her small knitting studio in Leesburg, VA.
Clay Shirky made the phrase, "here comes everybody,"  famous in summarizing how "social collaboration just got easier." But who knew "everybody"could both harm as well as advance society's aims?  Or, to switch metaphors, more to English Playwright Thomas Middleton's famous phrase in 1604, "One man's meat is another man's poison," when it comes to turning the social media meat cleaver from preparing a dinner to battle axing someone's business.
Two quick examples.
A Trump supporter was compiling list of businesses to boycott, the modus operandi being that they were ostensibly hostile to Trump voters.  That led the supporter to sending a threatening boycott email to Finch Knitting and Sewing Studio in Leesburg, VA.  The only problem was that the tiny proprietorship showed no hostility to Trump supporters or outright favoritism, for that matter, to Hillary Clinton supporters.  The store owner did, however, offer on the Pussyhat Project site knitting supplies, like knitting needles and pink yarn along with instructions on how to knit a cat-ear cap many marchers wore at the Women's March.  I guess that was the so-called "tipping point" for the Trump supporter, cum boycott organizer, to send the threatening email.
The proprietor immediately wrote back to the Trump supporter a consoling and even tender reply: "We are not and never have been hostile to any human being," ending with the words, "Just remember you belong here."  She posted the letter on the shop's Facebook page and sent a copy to the local business association.
She was lucky.  She got hundreds of supportive comments and no boycotters appeared.  In fact, supporters started flooding her store, some from out of state, and her business jumped 60%. Had it gone the other way, the small-business owner said she would have had to close her business.
Why was she lucky?  She took action that defused the anger that could have further provoked the Trump supporter and she enlisted the support of those who believed in her right to sell her products in an open marketplace and for her to show support, even obliquely, for a cause that mattered to her and to her business (selling knitting and sewing supplies to people who she thought would be in the market for them).  That's called capitalism.
Shannon Coulter of Grab Your Wallet, a campaign urging a boycott of retailers who carry Trump family products
Ivanka Trump was not so lucky.  Her father is a contentiously-elected President of the United States and her husband, Jared Kushner, is one of his top advisors.  She sells a line of fashion clothing sold under her name that has drawn the wrath of women who believe she stands for all that is wrong and wrong-headed about her father, the president, and his administration.
Ivanka Trump's fashion line has been dropped by Nordstrom and others as a result of Grab Your Wallet boycott.
The campaign is already a success, by both economic and media coverage standards. Thousands of people have contacted the stores on Ms. Coulter's boycott list, including Macy's and Amazon and retailers including Nordstrom, Neiman Marcus and T.J. Maxx have stopped selling products connected to Ivanka Trump.  Others, including feminist writer Gloria Steinem, Olympic diver Greg Louganis, and actress Lucy Lawless of "Xena," have lent their names and support to the boycott.
Bottom line:  Is one boycott threat not OK and the other OK because one is a small-business owner, not a celebrity, not an activist, and whose livelihood is measured by daily sales and the other both a symbol and actor in politics where the issues of free speech, freedom of the press, immigration, civil rights, and education (among others) are at risk or at least in strong debate?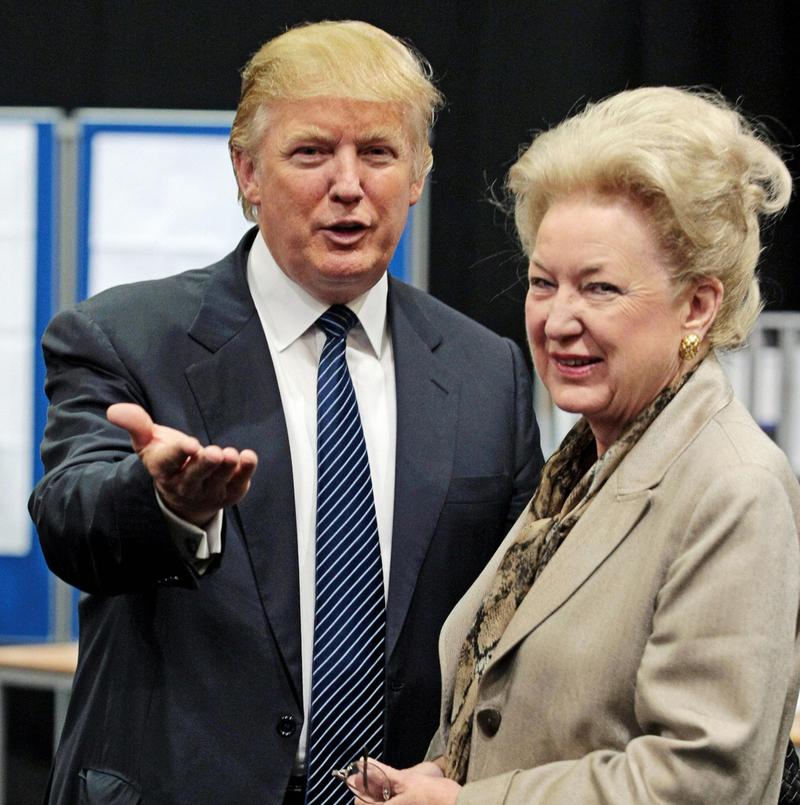 Maryanne Trump Barry, the president's sister
If you say yes, how far down the Trump family line should we go to express our outrage–other Trump family members, such as Tiffany, or Trump's sister, Maryanne Trump Barry, former Judge of the United States Court of Appeals for the Third Circuit now in private practice, or people who have done business with the Trump Organization or the Trump sons, Donald Jr. and Eric?
Personal story: I was called to the office of the CFO of a former company I used to work for with the Director of Security, a former Secret Service agent, because the CFO's wife was being harrassed in front of her Philadelphia townhouse by animal rights activists.  Why?  Not because the company her husband worked for mistreated animals but because a member of the company's board of directors also sat on the board of a company who animal rights activists believed was mistreating animals in their laboratories.  OK to do?  The animal rights activists said yes, "Whatever it takes to stop animal cruelty."
Question: Was she fair game and if so, why, and if not, why not?
Reference: https://www.nytimes.com/2017/02/25/business/the-unlikely-general-behind-an-anti-trump-boycott.html
http://loudounnow.com/2017/01/26/leesburg-business-responds-to-political-blacklist-email/