Real trailer for the movie, A Cure for Wellness
"A Cure for Wellness" is a movie about a 'fake' cure that makes people sicker," 20th Century Fox said.  "As part of this campaign, a 'fake' wellness site, healthandwellness.co, was created and we partnered with a fake news creator to publish fake news."
Fox created at least five sites known to be part of the fake news campaign.  They were taken down after the story was reported by BuzzFeed News on Tuesday but not before the sites' other headlines, made to look and appear real, went viral themselves.  Clicking on the site also took people to the film's real trailer.
Here's a sampling of the fake news headlines that appeared on the fake sites that went viral:
• "Utah Senator Introduces Bill to Jail, Publicly Shame Women Who Receive Abortions"
• "BOMBSHELL: Trump and Putin Spotted at Swiss Resort Prior to Election"
• "LEAKED: Lady Gaga Halftime Performance to Feature Muslim Tribute"
• "Trump Refuses to Provide California Federal Support in Midst of Natural Disaster, Cites Sanctuary Cities"
• "California Legislature to Consider Tax Rebates for Women Who Get Abortions"
Users who entered their URLs were redirected to the film's official website, but archived versions of some of their articles remained available online.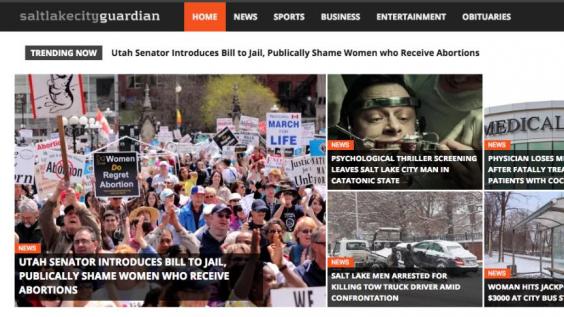 A fake news site set up by 20th Century Fox to promote its new film
The sites have since been taken down but not without comment by journalists and ethicists believing that a boundary had been crossed from freedom of speech to deceptive marketing.
I happen to agree.  Fake news in its purest comedic form as practiced quite brilliantly by SNL's "Weekend Update" segment or the Onion News Network is one thing, but 20th Century Fox's use seems unsuited to either its marketing goals much less its stature as a serious film studio.
Fake news on SNL's "Weekend Update" that is actually funny and clearly fake to viewers but with a grain, maybe even a bushel, of "truthiness."
Back to the drawing boards, Fox, and while you're at it, how about producing a movie people would actually want to go see.
See http://variety.com/2017/film/news/a-cure-for-wellness-fake-news-promotion-1201987278/ and Liam Stack's article in the NY Times for more in-depth reporting on the deceptive marketing of 20th Century Fox and "A Cure for Wellness."