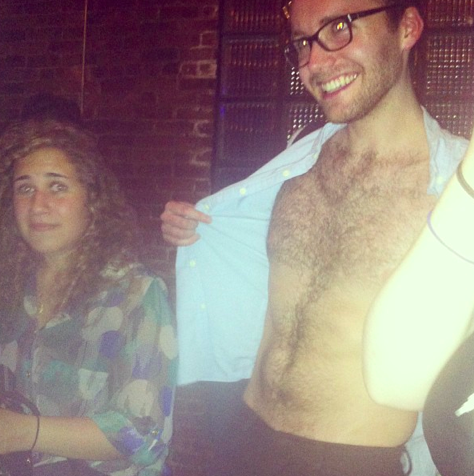 So, was this guy just trying to introduce himself on Facebook?
I had a capstone student several years ago who did her final project on employers who screen applicants' social media and whether the posts impact the hiring decision.  She found that the large companies typically do it as part of the screening process, the middle size companies sometimes do especially if there are concerns or perhaps issues that some of the interviewers raised or the applicant is in tight competition with another applicant, and the small companies rarely do.  That might change and if so, probably more companies will start to include it as part of the company's hiring process, according to the Society for Human Resource Management.
Employment lawyers are saying that more and more companies are asking how they should, and can, use social media as a screening factor so as to glean more insights about the candidate without violating his or her privacy rights, such as if they are pregnant or other issues proscribed in the interview process.
How could posts work against the candidate?  Well, certainly the one above might, especially if the shirtless dude is applying for a customer-centric position in the company or perhaps a political position (Anthony Wiener, are you listening?).  More nuanced are posts that reflect contradictions in what the job seeker has said about him or herself that is at striking odds with the social media post.
Another question pondered by human resource professionals, and one uncovered by the Organizational Dynamics student in her capstone study, is how well a social media profile predicts actual worker attributes, good or bad.  The answer: hard to tell as yet.  Some have shown that questionable posts, when put to the candidate, can be explained and the applicant has proved "phenomenal," as one employment law specialist recounted.
On the other hand, if social media comments or photos raise legitimate concerns about a potential negative impact on a company, then HR has every reason to be concerned.
Bottom line for a social media user: Ask yourself this question, How comfortable would you be explaining why you posted what you did, and if you're a hiring manager, How revealing is the information contained in the post, or your perception of it, about the candidate's qualifications and potential performance in the job sought to make you change your mind?
In any case, Facebook poster beware of "What's on your mind?"
NY Times columnist Rob Walker's piece about social media posts and their workplace implications: http://www.nytimes.com/2016/02/21/jobs/the-resume-and-references-check-out-how-about-social-media.html?_r=0