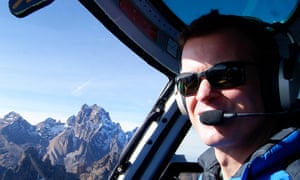 Roger Gower, 37, was shot and killed on January 29 while conducting anti-       poaching surveillance over the Maswa Game Reserve.
A British helicopter pilot has been fatally shot by elephant poachers in Tanzania, a conservation charity has said.
Roger Gower was helping authorities in Tanzania track the criminals when they fired on his aircraft on Friday, the Friedkin Conservation Fund said.
In a message posted on its website, founder Dan Friedkin said the organisation was "profoundly saddened by the loss of our dear friend".
He said: "Roger was killed while piloting a helicopter during a coordinated effort with the Tanzanian wildlife authorities to track down and arrest active elephant poachers. In the course of this action the poachers fired upon the helicopter and Roger was fatally wounded.
"We are committed to honouring Roger and his work. We are also committed to ensuring that those responsible for this attack are found and brought to justice. We believe that Roger can best be honoured by redoubling our commitment to protect elephants and our priceless wildlife heritage.
Elephants at Serengeti National Park in Tanzania. The elephant population in the country fell to 43,000 in June 2015 from 109,000 in 2009. CreditTony Karumba/Agence France-Presse — Getty Images
Pratik Patel, a colleague from the Friedkin Conservation Fund, said Gower was shot on Friday afternoon during a patrol as he approached the last carcass of three elephants that had been killed by poachers who were apparently still in the area.
The pilot managed to land but died before he could be rescued, Nyalandu said.
An investigation into the death of the British helicopter pilot  has uncovered a criminal poaching ring led by a rogue intelligence officer, the Tanzanian authorities said on Monday.
After a weeklong manhunt that involved house-to-house searches in villages surrounding the reserve, at least nine people have been arrested in connection with the death of the pilot, including Iddi Mashaka, a former police officer who used his current position as an intelligence officer with a regional conservation authority to help the poachers travel undetected, said Lazaro Mambosasa, the regional police commissioner. With the arrests, the authorities said, the ring has been dismantled.
Poaching is a serious problem in Tanzania. According to the most recent elephant census, published in June 2015, the country has 43,000 elephants, down from 109,000 in 2009.
Mr. Gower had worked in East Africa for the last seven years, spending time in Kenya and Tanzania. "Going to Tanzania, he had an opportunity to fly and look after animals and to watch animals, and it was a lot of things he loved all rolled into one," Max Gower said.
Mr. Gower's body was returned to England on Friday. The family has set up a crowdfunding campaign in his honor that has already raised more than 50,000 pounds, or $72,000, money they hope will be used to help combat poaching in Tanzania.
Sometimes bad things happen to good people.  In this case crowd-funding is trying to honor the good deeds of a good person.
In a more visceral reaction, a government minister in Tanzania has called for a "shoot-to-kill" policy against poachers in a radical measure to curb the mass slaughter of elephants.
Story filed by Willy Lowry of the NY Times and The Guardian.com.