SeaWorld is launching a new campaign called SeaWorld Cares to counter the continuing and virulent attacks by animal rights organizations and the public following the death of a SeaWorld trainer five years ago and allegations of mis-treatment of its whales and dolphins as a result of how they are captured and kept in captivity.
A scathing documentary in 2013 called Blackfish chronicled the death of a SeaWorld trainer, Dawn Brancheau, killed in 2010 by an Orca Killer Whale, named Tilikum, at the SeaWorld entertainment complex in Orlando, FL as hundreds of spectators looked on. The incident has sparked a backlash by animal rights organizations and the public against both the theme park's capture and treatment of Killer Whales as well as dolphins:  www.youtube.com/watch?v=Y6ou5DqfkZ8
SeaWorld Orlando is part of a chain chain of marine mammal parks, oceanariums, and animal theme parks owned by SeaWorld Entertainment. The parks feature orca, sea lion, and dolphin shows and zoological displays featuring various other marine animals and has been a destination park for millions of tourists, as DisneyWorld is, since its opening in 1973.
Since the Blackfish movie's debut at Sundance, it has been seen by millions of people and been the focus of such animal rights organizations as PETA, People for the Ethical Treatment of Animals.  For months after the documentary's release, SeaWorld seemed to hope a surge of bad press and protests surrounding a controversial documentary would fade away.
Then a wave of high-profile entertainers canceled appearances at the company's marine parks late last year and SeaWorld decided it couldn't stay silent about "Blackfish" any longer.
The company launched an aggressive media campaign of persistent anti-"Blackfish" social media posts, polished videos featuring SeaWorld employees and full-page ads in some of the nation's largest newspapers: seaworld.com/en/truth/truth-about-blackfish/.  That campaign only fed the flames of more reputation damage and SeaWorld's bottom line was being seiged by the allegations of animal mis-treatment.
Now, over five years after the deadly attack, the documentary movie, and PETA's unceasing anti-SeaWorld campaign, SeaWorld is launching a renewed and expanded public relations counter-offensive against PETA's and others' allegations demonstated by this PETA-inspired T-shirt and button: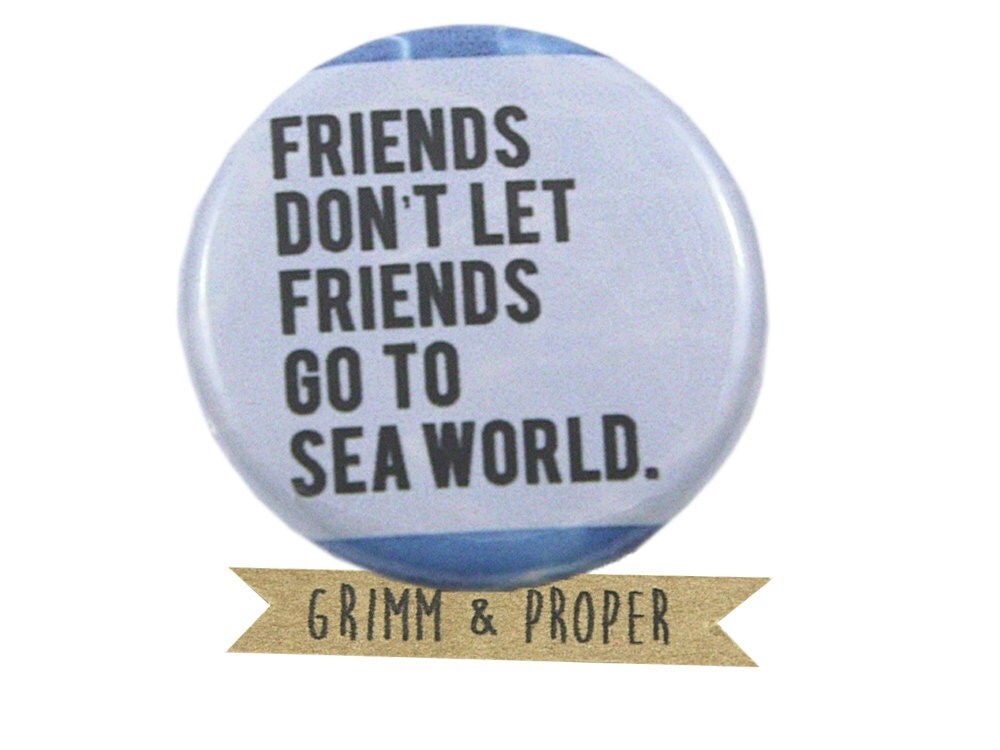 The new SeaWorld Entertainment, Inc. advertising campaign is called SeaWorld Cares.  It highlights the company's leadership in the care of killer whales and contributions to protect whales both in human care and in the wild. According to its news release, "The campaign will emphasize SeaWorld's 50-year commitment to continuous evolution – including its recent announcement of new killer whale habitats – while setting the record straight on false accusations by activists who oppose whales and other animals in zoological settings.
"There's been a lot of misinformation and even lies spread about SeaWorld, and we recognize that it has caused some people to have questions about the welfare of killer whales in human care," said David D'Alessandro, Chairman and Interim Chief Executive Officer of SeaWorld Entertainment, Inc. "This long-term campaign will address those questions head on. We want to provide the facts, so people can make up their own minds on this important issue."
The print advertisements will feature SeaWorld veterinarians, researchers and other members of the company's team of 1,500 animal care experts. In their words and reflecting on their experiences, they will explain how the company cares for its killer whales, while also refuting the claims of animal rights activists. The ads will also highlight SeaWorld's latest initiatives to better understand, care for and protect killer whales now and in the future, including the company's commitment of $10 million in matching funds to study endangered killer whales in the wild. The print advertisements will run in publications nationwide beginning today with television advertisements to follow.
The digital component of the campaign seeks to open a conversation with the public to address concerns and questions. New online videos feature SeaWorld employees answering some of the most common questions about SeaWorld today and offering viewers a behind-the-scenes look at animal care in the parks.  AskSeaWorld.com provides the public with the opportunity to ask questions directly via Twitter with the company's responses centrally housed in one online location.
While comprehensive in its launch and use of several platforms: print, social media, websites, and on-site explanations of SeaWorld's good intentions and actions toward some of the world's largest and most-loved marine animals, PETA and a related marine wildlife organization WDC (Whale and Dolphin Conservancy) are actively refuting each of the claims SeaWorld Cares is making and will no doubt keep SeaWorld in its sights for as long as SeaWorld keeps Orcas in captivity.
In the words of Malcolm Gladwell, the tipping point has evidently been reached.  The SeaWorld Cares campaign may be too little too late.