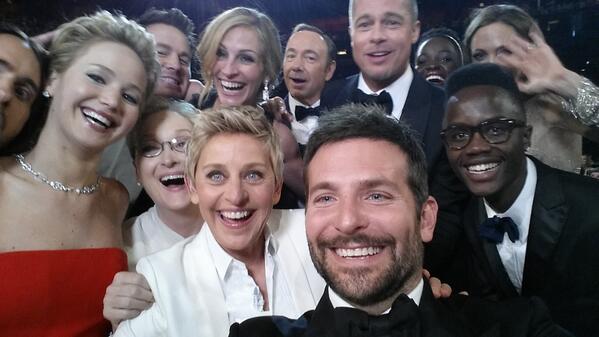 It was the selfie seen 'round the world at last year's Oscars. Question is, Can social media bring home the gold again this year for the 87th Academy Awards?
Probably.  If last year's social media stats can be repeated.  According to Twitter, the 2014 Academy Awards telecast was the most tweeted non-sporting live event of the year, with more than 17 million Oscar-related tweets over the evening. By comparison, last month's State of the Union address drew fewer than 3 million tweets.
When host Ellen DeGeneres tweeted a selfie with Bradley Cooper, Meryl Streep, Angelina Jolie and other stars and asked viewers to "see if we can break the record for the most retweets," they did just that. The photo was retweeted nearly 3.4 million times, causing Twitter's servers to go down for more than 20 minutes.
One of the actors in last year's selfie may himself be "his own best selfie" and re-tweeted millions of times if Brad Cooper or "American Sniper" win Best Actor and/or Best Picture, which could happen.
 A scene from "American Sniper"
But even as the academy celebrated the selfie's success, less favorable moments went viral on social media as well. Introducing Idina Menzel's performance of the song "Let It Go," John Travolta mangled the singer's name as "Adele Dazeem." A Twitter account for Adele Dazeem quickly popped up, and within 24 hours, there were over 26,000 tweets poking fun at the gaffe.
John Travolta introducing "Adele Dazeem" at last year's Oscars.
For comedians in particular, live-tweeting the Oscars has become a kind of blood sport, with everyone trying to break though the clutter with the most cutting bon mot in 140 characters or fewer.
"It's a foot race to get out the best joke about something that someone just messed up," said comedian and actor Rob Huebel, who plans to live-tweet the Oscars to his more than half a million followers. "So many people will be chiming in with snarky comments, and everyone is going to say the obvious thing. So you have to think, what's the non-obvious thing?"
In the last three years, the number of combined subscribers to the academy's Facebook page, Twitter account and YouTube channel have grown from roughly 400,000 to more than 7 million. That augmented digital reach will be carefully leveraged to simultaneously pull back the show's curtain a bit for viewers and tell the story of Oscar night the way the academy would like to see it told.
But for all of its advance planning, the team behind the show is aware that the moments most likely to resonate on social media are likely to be unscripted ones.
Daniel Patrick Harris will host this year's Oscars
As for trying to beat last years' record-breaking selfie or to crash Twitter once again, this year's host, Neil Patrick Harris — an active and savvy user of Twitter and Instagram — isn't worrying about any of that.
"I'm not locked in to any kind of social media competition," he told The Times recently. "While the numbers are impressive, you can't really seek them. That's what's so fun about Twitter: When something catches on, it just catches on because it did."
For a more complete reporting of the 2015 Oscars and what's in store for social media, see LA Times arts and entertainment reporter Steven Zeitchik's full article: http://www.latimes.com/entertainment/movies/la-et-mn-oscars-social-media-20150219-story.html#page=1